Bachelor of Arts, Global Economics
The Global Economics major at UCA provides a broad education designed to understand and seek solutions to contemporary economic, financial, environmental and social challenges facing the world. Given UCA's unique location and development focus, the programme examines many of these issues from the perspective of mountain communities of Central Asia. The programme provides a strong foundation in both theoretical and applied aspects of economics, empowering students to use their knowledge to evaluate a variety of economic and social phenomenon to make informed personal, business and policy choices. Programme requirements include a  core set of courses in economic theory, supplemented by mathematics, data analysis and statistics. Additional requirements include courses in a number of economic sub-fields relevant to the development mission of the university. Elective courses allow students the flexibility to develop a programme of study that is tailored to their individual needs and interests, such as in business, entrepreneurship, environment, and public policy. Students are also encouraged to incorporate courses from other UCA programmes as electives for a well-rounded educational experience.
Graduates of Global Economics are in high demand because of increasing public concerns related to the environment and resource use, and the importance of economics and management in global affairs. The programme's low faculty-student ratio and hands-on learning allow students to gain the confidence and experience needed to compete in the job market or go on to graduate studies.
Partnership with the Higher School of Economics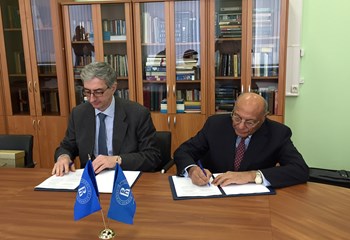 Dr Ivan Prostakov, Vice Rector of the National Research University, and Dr Shamsh Kassim-Lakha, Chairman of the Board of Trustees of UCA signing the academic partnership at the Higher School of Economics in Moscow.
Partnership with the Stockholm School of Economics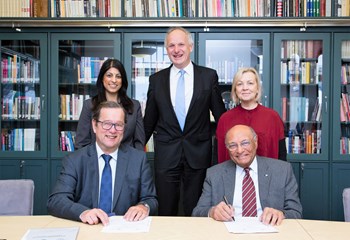 The University of Central Asia (UCA) and the Stockholm School of Economics in Riga (SSE Riga) signed a memorandum of understanding on February 14th 2018 in Riga, Latvia.
Meet Global Economics Faculty
At the end of the programme, students will be able to:
Explain complex economic and social phenomena through models and theory.
Analyse qualitative and quantitative data to describe relationships between economic variables.
Identify the factors determining organizational and institutional performance, and the inter-relationship between capital, labour and technology in various markets.
Apply economic arguments to discuss economic policy proposals, especially in the context of Central Asian economies.
Assess development challenges relevant to mountain communities by asking researchable questions and providing evidence for possible policy interventions.
Use specific economic concepts such as economic equilibrium, agent theory or transaction costs to explain economic issues.
Evaluate the limits of prevailing economic theory to understand the world in which we live in.
Evaluate a host of policy choices (e.g. equity vs efficiency; environmental sustainability vs economic growth) using appropriate economic methods and tools.
Communicate the implications of economic ideas, concepts, and policy-relevant to economists, decision-makers in business and public sectors, as well as the general public.
Careers and Graduate Studies
The Global Economics programme at UCA is designed to prepare students for a range of successful careers especially those in the development sector. This includes careers in government, private firms, non-profit and international organisations in fields as diverse as public policy, environmental economics, agribusiness, ecological management, and international relations. Courses offered at UCA in entrepreneurship, management and finance give enterprising and resourceful students the tools to start their own businesses and contribute to the development of the regional economy. Finally, the programme prepares graduates to enter top-ranked graduate and professional schools to pursue research and academic careers. Graduates may continue their education in fields such as law, business administration, health, economic development, social work, consumer advocacy, and natural resource management.
BA, Global Economics consists of 240 credits divided as follows:
Foundational courses in the humanities, social and natural sciences as mandated by the Ministry of Education (54 credits)
Core courses in Economics, Math and Statistics (93 credits)
Elective courses from within Economics as well as other majors at UCA (Computer Science, Communications and Media and Earth and Environment Sciences) (69 credits)
Cooperative and practical training (15 credits)
Thesis and State Exam (9 credits)
Core Programme Courses
Introduction to Microeconomics
Introduction to Macroeconomics
Statistics
Introduction to Econometrics
Intermediate Macroeconomics
Intermediate Microeconomics
Advanced Statistics
Applied Econometrics
Economies of Central Asia
Elective Courses
Business Strategy
Social Entrepreneurship
Marketing
Project Appraisal (Cost/Benefit Analysis)
International Finance
Economic Growth
Behavioural Economics
Environmental Economics
Public Economics
Energy Economics
Industrial Organization
Labor Economics
Environmental Economics
Economics of Innovation
Economics of Tourism
Agribusiness and Marketing
Advanced Macroeconomics
Global Economics Course Catalogues
Please find below the Fall 2022 Catalogues: