 Learning About Financial Literacy
People make difficult decisions regarding money during their lifetime. They borrow money to pay for their children's education, medical emergencies, or weddings. Some invest in real estate or stocks, even though most are poorly informed about financial matters. According to a 2018 OECD report on financial literacy, fewer than one in five adults in Kyrgyzstan are considered financially literate. This illiteracy rate is concerning since financial knowledge plays an important role when complex financial products become available to the population. The same report mentioned that 40 percent of respondents were making choices regarding various investment instruments.  For example, in the first six months of 2021, 2,500 people invested some 35 million KGS (over $400,000) in questionable financial pyramids.
Dr Kemel Toktomushev, a Senior Research Fellow at the University of Central Asia's Institute for Public Policy and Administration, decided to promote better awareness of money matters through social media. He noted, "It is incredible how people still believe in reaping huge profits in a short period of time, and how easily our citizens invest their money in financial scams." His posts on Instagram have a substantial following, and he decided to organize a workshop in Bishkek on 14 December 2021 to foster a better-informed investment community.
Over 400 people registered for the meeting, and 150 were invited to attend.  The event brought together people from different walks of life, students and professionals working in every field from construction to showbusiness. Kemel's talk covered investing in the stock market, opening brokerage accounts, thinking about risk, choosing long-term investing over trading, taxes on profits and other topics.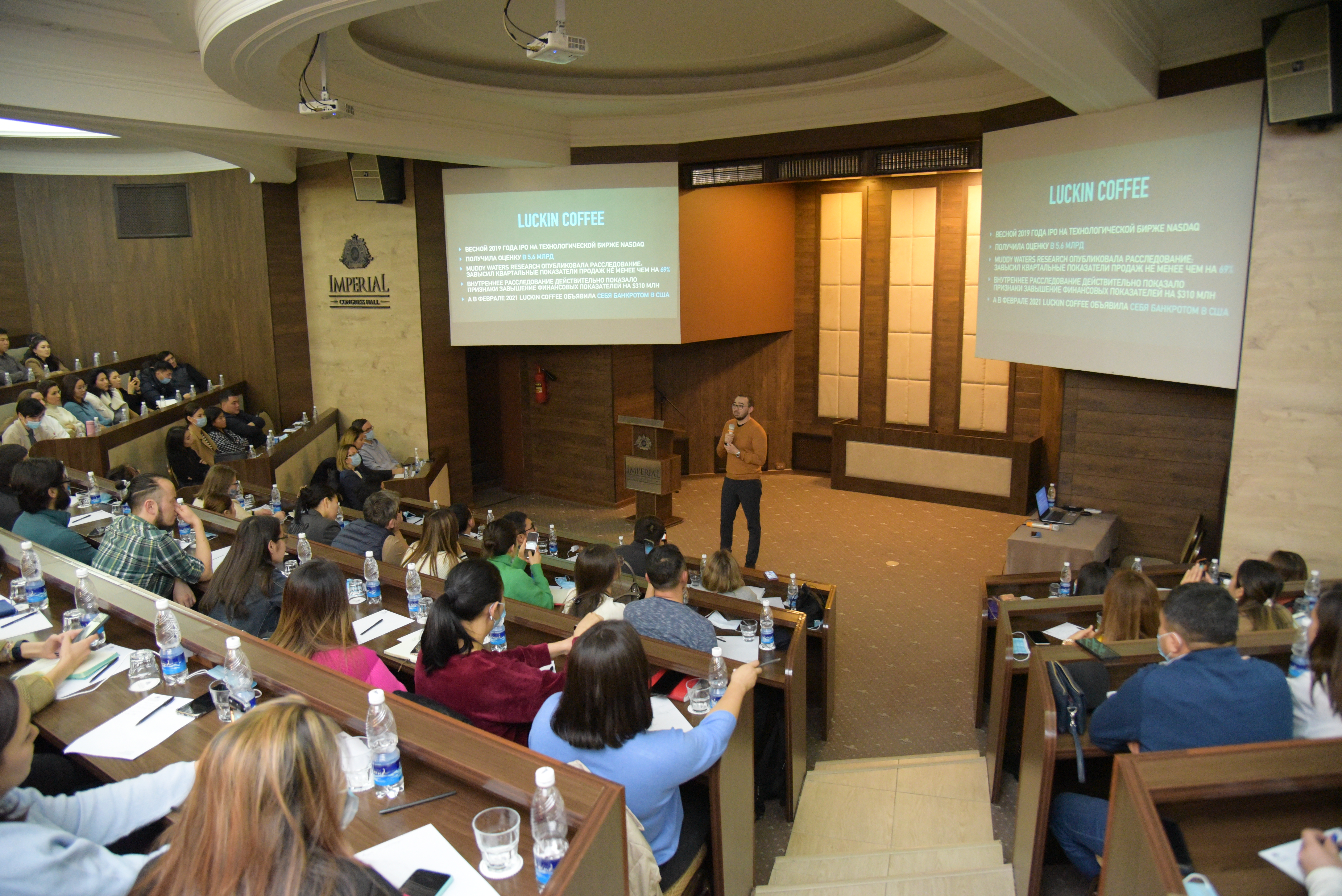 Kemel's presentation was followed by Q&A, where questions ranged from investing in cryptocurrency to pre-IPO stocks, choosing between American and Chinese stock markets. His survey of the attendees showed that two-thirds wanted to invest to secure an additional source of income, and the other third to cover their retirement or children's education. Members of the audience expressed hope that there would be further meetings to receive information and for participants to exchange experiences.  
In January 2022, Kemel and his colleagues at UCA are launching a project on economic literacy by promoting the book Common Sense Economics: What Everyone Should Know About Personal and National Prosperity. The book is available in Russian and the Kyrgyz language edition will be released shortly.