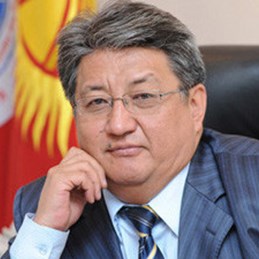 Dr Akmataliev is the Rector of the Academy of Management under the President of the Kyrgyz Republic, a position he has held since 2018.
Dr Akmataliev has a long and impressive record of contributions in education and public administration. He served as Rector of Naryn State University from 1999-2010 and has held senior government positions including First Deputy Governor and Akim of Naryn (1992-1996).
Dr Akmataliev is a Candidate of Philosophy (1985) and received the title of professor in 2004, and honored Worker of Education of the Kyrgyz Republic (2009). He is author and co-author of two monographs, three university textbooks, and 27 scientific and popular science articles.