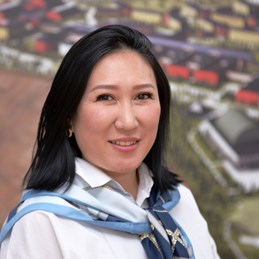 Meerim Razbaeva has with more than 15 years of experience, working in international and dynamic environments. In the past, she served at the UCA in different capacities and was part of UCA's foundation and development of legal function.
Most recently she worked as Legal Counsel at the Office of the General Counsel of the Asian Development Bank's Headquarters in Manila. She provided advice on various matters with a focus on institutional and administrative law matters and legal issues affecting ADB Headquarters, Resident Missions, and Representative Offices in ADB member countries, privileges and immunities of ADB etc.
Prior joining UCA Merim has trained at renowned international law firms as Freshfields in Paris, WilmerHale in London. Throughout her career she has also engaged with academic institutions as a Lecturer at the American University of Central Asia, a Project Manager at the Center for Security Studies in Switzerland and a Research Fellow at Columbia Center on Sustainable Investment in New York.
Meerim holds an LL.M. from Columbia University in the City of New York, BA and MA degrees in Jurisprudence with the Highest honors from the International University of Kyrgyzstan.